Recipes & More
10 Irresistible Yogurt Snacks for Busy Days
4th July, 2023
Yogurt snacks are a great option for busy days when you're on the go! They are convenient, portable and packed full of nutrients. Here are some irresistible yogurt snack ideas that are quick and easy - the perfect afternoon pick me up.
1. Yogurt Smoothie
Blend yogurt with your favourite fruits and a liquid of your choice (such as milk or juice) to make a deliciously refreshing smoothie. Feel free to add protein powder or nut butter for an extra boost.
2. Yogurt Ice Lollies
Yogurt ice lollies are a delicious and refreshing treat and can be a healthier alternative to traditional ice cream treats. They are easy to make at home and can be customised with flavours and additions of your choice - perfect for satisfying that craving and a great snack for kids!

To make yogurt ice lollies at home, simply select your favourite yogurt and sweeten it with honey or agave syrup. Mix well. Add toppings like fresh fruits, granola, or chocolate chips to ice lolly moulds. Pour the sweetened yogurt into the moulds, leaving space for the toppings. Gently press them down and insert ice lolly sticks. Freeze for several hours or overnight. Run the moulds under warm water to release the lollies. Easy!
3. Clandeboye Brownie Trifle Pots
Our Clandeboye trifle pots recipe is a delicious snack to satisfy that sweet tooth! These trifle pots combine layers of creamy yogurt with brownie bits, but feel free to add the ingredients of your choice alongside our yogurt to create a delightful and indulgent treat.
4. Yogurt with Nut Butter
Mix a dollop of your preferred nut spread (like almond or peanut butter) into a bowl of yogurt. Be sure to thoroughly blend them together for a delightful taste experience. If you're particularly hungry, toss in a piece of fruit like some juice strawberry or a sweet banana, to add a burst of freshness and texture.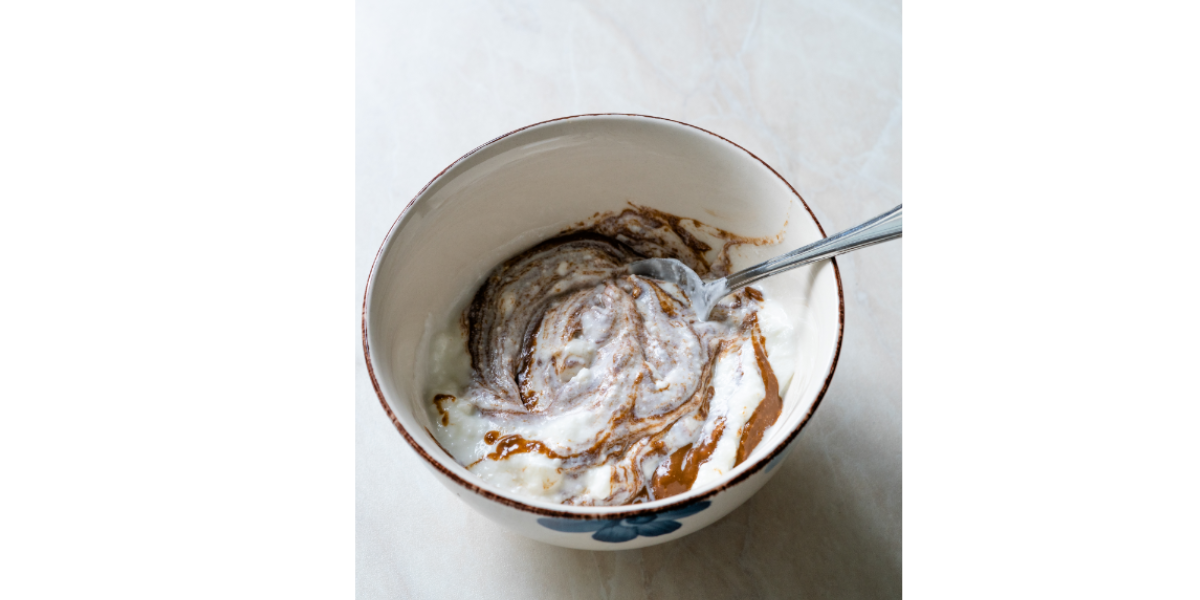 5. Yogurt and Veggie Dip
Mix yoghurt with herbs, spices or any seasoning of your choice to create a savoury dip. Pair it with fresh veggies such as carrot sticks, cucumber slices or pepper strips for a healthy and crunchy snack. Check out our Feta Dip recipe for a quick and easy lunch box filler.
6. Yogurt Parfait
Create a tasty and nutritious snack by layering yogurt in a jar or container with your preferred toppings like granola, fresh fruits, nuts, or seeds (like flaxseeds or chia seeds). This will provide you with a wholesome and satisfying treat to keep you energised.

7. Frozen Yogurt Bark
A healthy frozen treat made with yoghurt and toppings such as fruit and nuts. Great for a summer snack! Spread the yogurt onto a baking tray with parchment paper, add your toppings of choice, freeze overnight or for at least 3 hours until firm. Remove from the freezer, break into large chunks and enjoy!

8. Yogurt and Pecan Picnic Slice
Our delicious Yogurt and Pecan Picnic Slices recipe is perfect for on the go and busy days! This recipe offers a perfect balance of textures and tastes, making it an excellent choice for picnics, parties, or even as a satisfying snack.

9. Yogurt Protein Bowl
Boost your protein intake by adding protein powder to your yogurt. Simply blend the protein with a serving of yogurt and add your favourite fruits or toppings for a yummy snack that will keep you satisfied for longer.
10. Clandeboye Yogurt Pots
If you haven't got time in advance to spend in the kitchen, worry not, our delicious 150 gram yogurt pots are perfectly portioned to make them convenient for on the go, whether you're looking for a quick breakfast or snack.
These pots are specifically designed to provide a smooth, rich, and authentically strained yogurt experience that can be enjoyed anytime, anywhere. We have a variety of flavours available from our natural and greek style yogurt range.

From our natural range, flavours include - natural, strawberry, toffee, raspberry, blueberry.
Our greek style yogurt range includes - natural greek style, madagascan vanilla, raspberry and white chocolate, mango and nectarine, mandarin and lime. Alongside this, we have our yogurt and granola pots that include strawberry and mango flavours.

Convenience, taste, and quality are at the heart of our yogurt pots. So why wait? Explore our full range of delicious yogurts now. Your taste buds will thank you!
Try for yourself
If you have sampled any of these 10 irresistible yogurt snacks, let us know! Reach out to us via Instagram @clandeboye_yoghurt or Facebook @Clandeboyeyoghurt and share your creations - We would love to see them!