Starter
Savoury French Loaf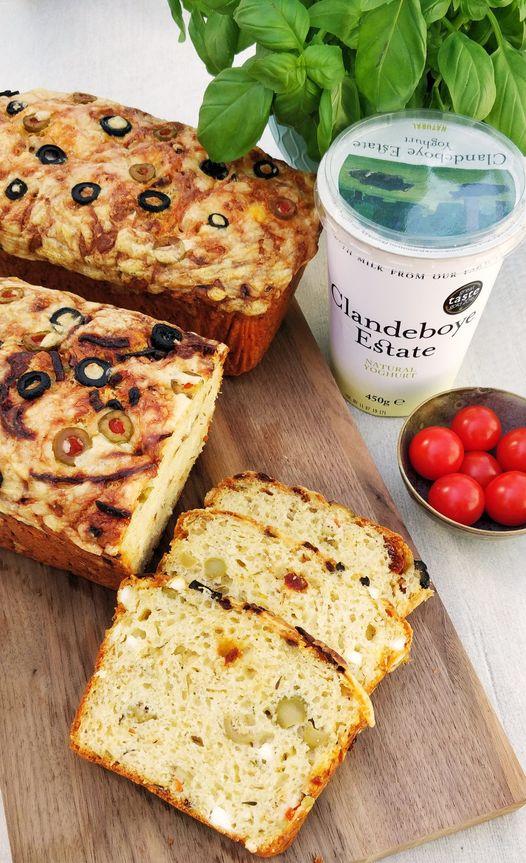 Ingredients
200ml Clandeboye natural yoghurt
250g Soda bread flour
100g grated cheddar (or gruyere)
70g Feta cheese, crumbled
7 TBSP light olive oil
2 eggs
150g bacon lardons or chopped streaky bacon, fried until just cooked
2 TBSP chopped sundried tomatoes
1 heaped teaspoon of fresh thyme or dried mixed herbs
Pinch sea salt
8-10 green olives, finely sliced (I used ones stuffed with pimentos for added flavour and colour)
4 black olives, sliced
---
Made with Clandeboye Estate
Natural Yoghurt
450g
Steps
Place the flour, herbs, and salt in a large bowl
In another bowl, whisk the eggs, yoghurt, and oil together (it will come together into a smooth mixture, but it looks a bit lumpy to start).
Add the wet ingredients to the dry and stir with a spatula until just combined.
Add the rest of the ingredients, keeping all the black olives, a small handful of the cheddar and a few green olives for the topping.
Scrape the batter into a lined 2lb loaf tin, smooth it off level with the back of a spoon and top with the remaining olives and cheddar cheese.
Bake at 170C for a good 45 minutes – until a skewer comes out clean.
Leave to cool for half an hour before carefully lifting it out of the tin and allowing to cool completely before slicing.
---
Recipes
Delicious Ideas
Twists on classic dishes all crafted with Clandeboye Estate Yoghurt.